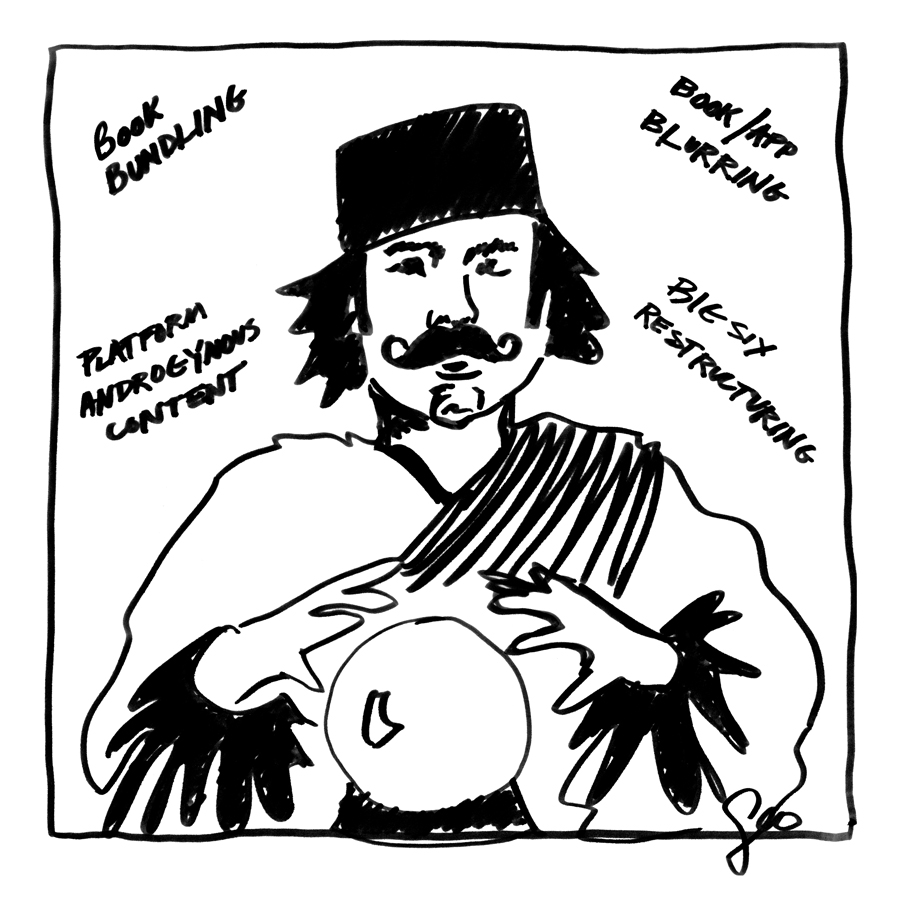 Day three of the new year. Already! I'm plugging diligently away at my 2012 resolutions, but what good are resolutions without some predictions?
I've polished up my crystal ball, and an image is emerging… A thinly veiled wish list? Are you kidding? No way. This is the real deal, a sneak peak into the future!
I'm seeing a sea change in the publishing world, a dramatic shift throughout the creator-to-consumer landscape. Old news? Yes. But what exactly does the new publishing landscape look like? Here is my oracular best.
My top publishing prediction for 2012 is book bundling. It's time for user friendly digital book and audio book integration. If I want/need a book, I should be able to instantly find and purchase a digital version. And it should include both the text and audio version of the book. Not a computer generated voice struggling through the language. A whiskey tenor bringing the story to life. A current favorite is  Michael Ondaatje's The Cat's Table
. Splendid! I want to listen while driving, exercising, showering and cooking. And when I settle into my armchair or flop into the hammock by the shores of Lake Champlain I want to be able to switch seamlessly from audio to text so that I can read. And when I want to jot marginalia or forward a quotation to a friend, I want it to be equally simple in both formats. This vision of book bundling should be the bare minimum. But my prediction goes further. Print books can remain relevant if they include the digital bundle. Gift giving demands this. I want to write a personal inscription in green fountain pen ink in the front page, and I want to be able to wrap and hand the familiar bound heft of a book. Most of us still love print books. And the appetite (habit?) will die slowly. But what better incentive to buy the print version if it includes the digital bundle so that readers can also be listeners, etc. Personally I love experiencing books in multiple formats. But the bottom line is that the future is all about flexibility. And as long as we're imagining the perfect giftable book bundle, let's through in the Vook or other digitally enhanced, value added version too. Icing on the cake. Consumers will love the bundle even if they only use a fraction of the content.
Are you with me so far? My crystal ball is not blurry on this book bundling issue, though it's still not clear if the major strides in this arena will come from the "Big Six" or brave, savvy upstarts. A few publishing companies are already venturing into the territory, but who's going to redefine the book publishing marketplace. I'm ready!
My second publishing prediction for 2012 is for an app/digital book convergence (or at least blurring). I love the crack of a book's spine and the smell of musty old pages and contributing to the tangled marginalia of a treasured hand-me-down. But one's head must be deep in the sand to overlook the smartphone's manifest destiny. Not only have smartphones become ubiquitous throughout the developed world, but they're quickly becoming the one stop shop for, well, for just about everything content/communication/entertainment/etc. Phone, email, camera, secretary, navigator, coach, movies, games, news, flashlight, car key, you name it, the 21st century smartphone is almost divine. Like it or not, your smartphone is the ideal book bundling vehicle, and the app strikes me as the most obvious cheap, user-friendly packaging for tomorrow's book bundles. Enough said? And it is the ultimate inspiration buy!
My third publishing prediction for 2012 is platform androgynous content.  When I purchase a new digital title, I don't want to be limited by my device. If I'm using my iPhone, Mac Pro or Mac Book Pro I want the same access and experience. Ditto for Kindle Fire, Nook, Sony Reader, in-air entertainment console, etc. Make it easy for your audience to consume your content no matter where they are and no matter what interface they use. Unshackle good books from the devices which we use to read/watch/listen to them and we'll consumer much, much more of your liberated content. I promise!
These are my top three, but they're only the tip of the iceberg. The media is awash is publishing oracles, but Jeremy Greenfield's "Ten Bold Predictions for Book Publishing in 2012" (Digital Book World) is the best place to start. A couple of highlights:
The publishing world is a'changing… And it's changing fast! If you're trying to catch up, stop. If you're an innovator reinventing storytelling in the digital age, then sing, dance and celebrate because you are the change. And you're living in the garden of opportunity. It's a great time to be a storyteller!
What are your 2012 publishing predictions?
Update: I was honored by Porter Anderson (@Porter_Anderson) with inclusion in his January 5 Writing on the Ether.
"as we flee from the prediction-prone and nostalgia-noxious equinox back into our present, we're going to cast one brave look over at George Davis' set of what he calls 2012 Publishing Predictions – but, ah, these are actually wishes… What Davis says he wants is a seamless read across several media… Davis wants to start in the print hardcover. Then have the e-version know where he left the bookmark. Then have the audio edition's narrator pick up at the same place. And — I'm extrapolating here — finish the book by streaming the film, as before from the last point he left off in the audio-, e-, or tree-version. (Writing on the Ether)
Although Porter almost perfectly summed me up, I'd like to clear up one detail about the tree-versions of books. To be sure, the best-of-bundling will be seamless integration across media. To easily, instantly switch between audio, digital (text and/or multimedia à la Vook), video and print is an ambitious but enticing dream. And most likely a pipe dream, at this stage.
However the opportunity for seamless integration across digital media is considerably more attainable today than the seamless integration of print. So my prediction is for seamless digital integration bundled with the print book as "wrapper". Many of us still prefer to hold and read and smell and marginalia-fill and gift print books. This habit will likely diminish over time, but not overnight. So give buyers what they know they want. But include a scan-able digital bundle which immerses readers in the riches of digital publishing.
Related articles