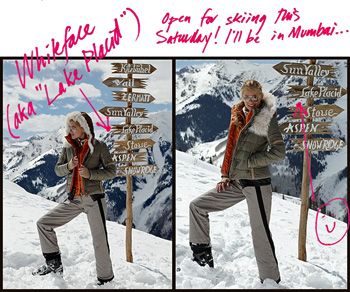 Lake Placid shows up in the Winter 2010 Gorsuch catalog, right up there with Zermatt, Sun Valley, Vail, etc. Is Lake Placid sexy again? The 1932 Winter Olympics and the 1980 Winter Olympics pushed our Adirondack alpine wonderland into the spotlight, and maybe it's happening again.
By coincidence, this morning I received an email notice this morning about Whiteface, the Olympic downhill ski mountain in Lake Placid:
"Whiteface will open Saturday, December 5, 2009 for the 2009-10 winter season. Mother Nature was off to a slow start, however, it looks as though the tides are turning back into winter! Our snowmaking crews are making snow 24/7 as temps permit! We will open with Excelsior, Summit Express, and Upper Valley. Over 1.5 miles of terrain. Beginner terrain will not be available. Cloudsplitter Gondola and Little Whiteface will be open with downloading on the Gondola, lower mountain will open asap."
By then I'll be in Mumbai, but it's good to know that we'll be able to start skiing when we get home!