"Life is not about waiting for the storms to pass… it's about learning to dance in the rain." ~ Vivian Greene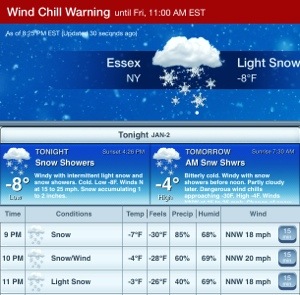 It's been a bumpy transition from 2013 to 2014. Storms, proverbial and otherwise, have dampened the celebratory season for me. There's no sense in airing out dirty laundry (how many metaphors have I mixed so far?) So I'll hop, skip, jump forward. After all, there's no guarantee that the storms will pass. It's January in the North Country, after all! Blizzards are supposed to be the norm.
So I invite you to join me in dancing in the rain, er, snow.
Apparently the whole Northeast is getting snowed under. It's cold as blazes here, but there's actually relatively little new snow. Fine, dusty powder. Maybe 3–4 inches. No more.
Thousands of flights have been canceled including my sister's and parents' return-home flights after holidays in the Adirondacks. A "wind chill warning" popped up on my mobile phone an hour or two ago, and the old school thermometer outside my bedroom window appears to have frozen…
So at this stage dancing is as much a survival technique as anything else. Crank up the melody, and enjoy your evening!