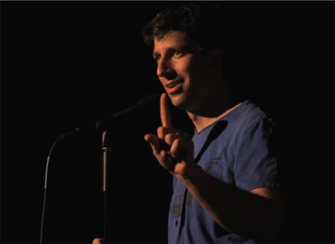 Jeff Polish storytelling at The Monti
Laurels and hugs and lots of chin-chin toasting to Lisa Pepin (@lisa_pepin) for her poignant video "Storyteller" about north Carolina's storytelling organization, The Monti including director Jeff Polish's backstory. I'm fascinated with storytelling unplugged and with The Monti in particular, and I suspect you will be too after enjoying Pepin's moving pictures and talking heads.
"As a storyteller it gave me validation for all those years that I was quiet… the stage is the best expression of myself… I'm bulletproof. It's amazing. It's probably the most amazing place that I live." ~ Jeff Polish
I'm reminded of Michael Ondaatje's In the Skin of a Lion.
"It is a novel about the wearing and the removal of masks; the shedding of skin, the transformations and translations of identity." (Contemporary Writers)
Perhaps you should read it. Especially if you enjoyed The English Patient. You'll recognize Hana and Caravaggio, for instance… And you'll recognize why Pepin's tidy storytelling about storytelling at The Monti reminds me of Ondaatje's storytelling in In the Skin of a Lion. Are you starting to catch my drift?
I've excerpted Polish's comment, substituting an ellipsis before "I'm bulletproof." Those two phrases which I removed — two phrases which are reemphasized dramatically in "I'm bulletproof" — speak to the puissance of storytelling that fascinates Ondaatje. That fascinates me. Drawing the storyteller's mantle over our quotidian garb, pulling the cavernous hood low over our eyes, obscuring our familiar face, we become our stories. We are bulletproof. For while. And it is indeed an amazing place to live.
Related articles