"Writing is both mask and unveiling." ~ E.B. White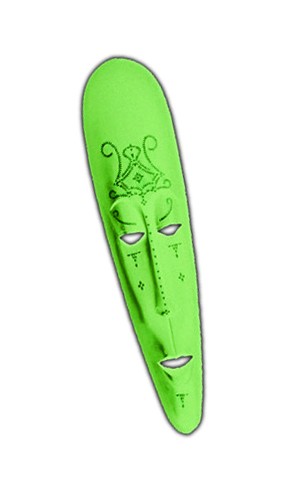 A mask is a dissembler's illusion. A knight's protective shield. An actor's costume. A robber's disguise. A clown's emotions. A diver's goggles. A model's currency. A posthumous record. A semblance. A counterfeit. A simulacrum.
A mask is a mask is a mask…
It's that fuzzy image above. I may simply have taken that image from a newspaper or a milk carton, but its presence on these pages suggests that it represents me. Or did. Or does it?
After all, even if it is a real photograph of me, I did Photoshop it plenty. In fact, I Photoshopped it a lot more than this neon image of an African sculpture which was originally black ebony with inlaid white mother of pearl against a tan background. Only a hint of the original sculpture – or even the original photograph – remains. Fortunately, the ebony original remains intact on the wall facing my desk.
Behind the Mask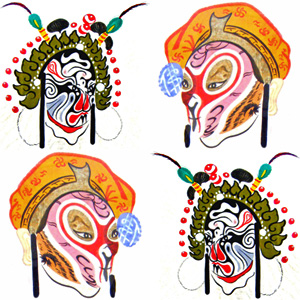 Can we ever get behind a mask? And if so, what do we find? Another? Or do we finally arrive at that authentic self, the uncontrived, the unselfconsious, the unaffected and naked self?
This blog – this digital dump of stories and dreams and artifacts – is the song behind my mask. My masks… Unfiltered melodies hummed and chanted, false starts and wayward ruminations.
The Mask Revisited
This post was originally published in January 2001 in the early days of this blog while I was fumbling around for a way to explain my purpose. Blogging was relatively unusual at the time, and this post was one of several attempts to sort through (albeit a bit self-consciously) my plans. Or my hopes. I updated the original blog post on December 22, 2011 and again on March 4, 2014.
And yes, more than a decade later I'm still fumbling.
Related articles