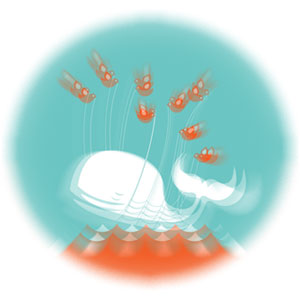 Hmmm… Bad karma? Coincidence? A bit uncanny that the same afternoon I chose to join the mad tweeting crowd the system got bogged down. Here's the message that greeted me this evening:
"Twitter is over capacity. Too many tweets! Please wait a moment and try again."
Uh-oh! And a moment later I tried again. Still the little twitter birds were hauling the whale over tossing seas. And again a moment after that. The blurring was a cross between seasickness and a gentle, prolonged belly laugh. I can explain neither.
Now — a leisurely shower later — the system seems to have restored itself. For now.